Visit our booth at Hall 8b, Stand 8bE37
Toronto, Canada – MapleJet, a leading Canadian manufacturer of industrial inkjet printers in the packaging industry for nearly two decades, is proud to announce its participation in Interpack 2023, to be held in Düsseldorf, Germany from May 4 to 10, 2023. With a focus on unique and advanced date coding technology, MapleJet is poised to showcase its latest advancements in industrial inkjet printing for primary and secondary packaging at the world's largest packaging trade fair.
What to expect from MapleJet stand?
Visitors to MapleJet's stand at Interpack 2023 can expect to see its range of MapleJet Hx industrial inkjet printers, including the Hx Nitro, a high-performance inkjet printer that delivers precise and accurate coding and marking solutions; the Hx Ultro, a compact and versatile inkjet printer that offers cost-effective coding and easy integration into a variety of production lines; and the Hx Cartro, an industrial inkjet printer ideal for printing legible and long-lasting date codes on cartons. These cutting-edge solutions offer exceptional performance and efficiency, making them ideal choices for primary and secondary packaging applications, respectively.
Primary Coding and Marking Solution
Hx Nitro Thermal Inkjet Printer
The Hx Nitro TIJ is an ideal choice for small to medium-scale businesses in the food, beverage, pharma, and cosmetics industries. With its precise and accurate printing capabilities, it can handle a wide range of coding and marking requirements, from simple product identification to complex tracking codes and graphics. It delivers low-maintenance solutions for these industries, while its reliability and durability ensure that it can keep up with demanding production schedules.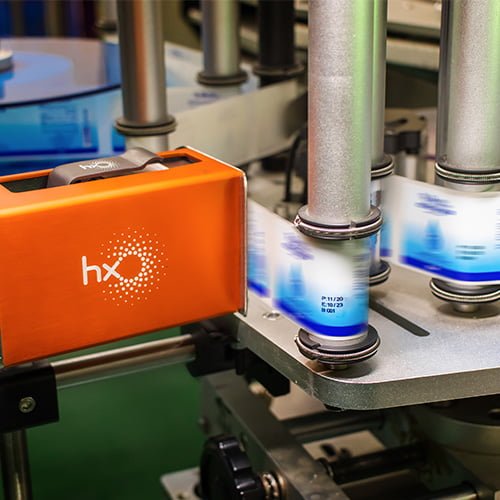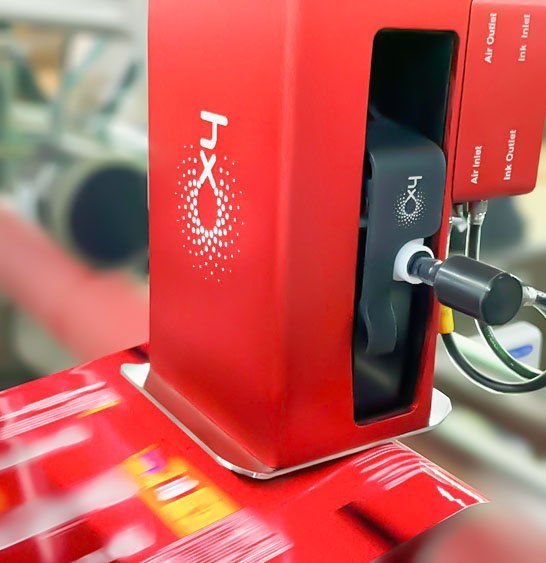 Hx Ultro Bulk Ink Delivery TIJ Printer
The Hx Ultro, with its fully automated bulk ink delivery system (US Patent Pending), is designed to meet the rigorous demands of high-volume production lines in the food, beverage, and pharmaceutical industries. Its compact design and ease of integration into production lines make it a cost-effective and low-maintenance solution for large-scale operations. The fully automated bulk ink delivery system ensures seamless and uninterrupted production, eliminating the need for manual ink refills and reducing downtime and maintenance costs.
The Hx Ultro bulk ink TIJ printer is an environmentally friendly solution for high-volume industrial printing. The bulk ink system eliminates the need for multiple small cartridges, reducing packaging waste. Its ink contains no VOC or hazardous chemicals, making it safer for humans and the environment,
Secondary Coding and Marking Solution
Hx Cartro Carton Coder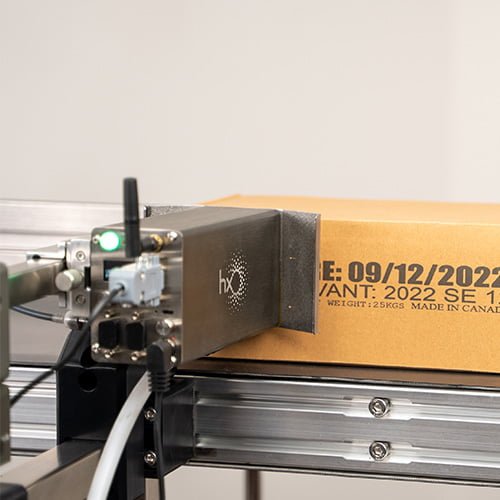 The Hx Cartro carton printer is specifically designed for box printing in secondary packaging, with its ability to print on large and flat surfaces, such as cartons and boxes.
Its pigment-based ink technology makes it an ideal choice for businesses looking to improve and ensure the legibility and durability of prints of their boxes while passing through different stations of the supply chain.
Hx Cartro carton printer inks are certified 'OK biobased ink' by TÜV AUSTRIA CERT GMBH, making it a sustainable and environmentally friendly ink solution made from renewable resources, reducing its carbon footprint and promoting a greener printing process.
Industry Expert
MapleJet has a solid credential of providing reliable coding and marking solutions to various industries for almost two (2) decades. It has worked with a lot of applications in the food packaging industry, beverage, pharmaceutical, and cosmetics.
Global Coverage
MapleJet has a strong presence in North America, the Middle East, and South Asia regions through its subsidiary companies, MapleJet Middle East FZE, in the United Arab Emirates; and MapleJet India Coding Private Limited in India. Aside from that it has partners in Africa, South East Asia, Central Asia, South America, and Russia.
About Interpack 2023
The Interpack 2023 show is one the biggest packaging and printing exhibitions in the world. Original Equipment Manufacturers (OEMs) from different continents are participating in this event to showcase their latest and most innovative technology in terms of product packaging and other production machinery.