https://www.youtube.com/watch?v=BAph7KG3ciA
ProDigit Bi-color Carton Printer is a fast-high resolution general purpose inkjet coding printer
MapleJet ProDigit Bi-color Carton coding and marking printer have an industrial ability to print two colors simultaneously onto a substrate providing perfect two-color coding solutions in the industry. The Bi-color oil-based printer uses a dual-cartridge based ink system with choices of Red, Black, White & Blue to print on porous substrates. Its modular design enables it to use two separate print engines using one controller; thus, adding more ability to print either on two sides of the corrugated box or extending its printing height.
Do Away with Mundane Single Color Printing
Bi-color inkjet coding and marking printers are not only low-cost of ownership but also economically friendly for companies looking to save cost while branding directly on the product.  It prints high-resolution logos, pictograms, text, and other important information in two colors. using a single print engine. This ability helps product manufacturers boost up their company branding and step ahead of their competitors in the industry.
Sustainable & Eco-friendly Printing
Maplejet ProDigit uses a long-lasting printhead powered by Xaar Printhead Technology. ProDigits printhead lasts for an average of two years even on continuous production. This promotes   good environmental practice in avoiding disposal of toxic waste materials drawn by waste ink and plastic into the environment. 
Drop on demand High-resolution Inkjet Coding Printer
Maplejet ProDigit inkjet coding machine uses piezoelectric drop-on-demand (DOD) printing technology. The printhead produces a precise amount of drops onto the material resulting in high-resolution print in almost all types of substrates compared to other DOD inkjet coding printers such as valve jet and thermal inkjet printers. 
Save Cost While Printing
ProDigit inkjet coding printer offers a low cost of ownership with its simple yet industrial strength functionalities. Using durable long-lasting printheads that can save cost compared to disposable printheads of thermal inkjet printers. ProDigit printers are operator-friendly and require low maintenance to continuously produce superior print quality throughout the production. 
Reduce Corrugated Box Inventory
Massive and continuous production lines demand a wider inventory and warehouse space. The volume of production and the limited available space for storage often creates problems and confusion especially in the time of dispatching the product to the rightful receiver, resulting in huge sales blunder. With Bi-color corrugated printer, it eases the inventory stress by printing directly onto the secondary packaging using the second color as an obvious marking to sort the product.
How inkjet coding printer it works…
There are two kinds of inkjet coding printing technology – Continuous Inkjet (CIJ) Printing and Drop-on-Demand (DOD) inkjet printing. Maplejet ProDigit works with DOD through Xaar Printhead Technology.
Under DOD falls three classes; valve jet – the flow of intermittent ink droplets are controlled by a valve; thermal inkjet – the use of a tiny heating element to force the ink out of the nozzle; and piezoelectric – a charge is generated when force is applied unto a certain material producing precise amount of droplets required for printing. Maplejet ProDigit inkjet coding printer uses piezo inkjet technology.
Piezoelectric DOD printing uses piezoelectric technology as actuators for drop ejection. The ink vibration at the nozzle openings is precisely controlled by the actuator once it receives the signal resulting in a multi-sized droplet ejection; thus, delivering outstanding print quality to a range of different substrates.
Pro Digit Bi-Color Corrugated carton printer
A full feature coding printer machine with two-color printing. Using oil-based ink perfect for printing on corrugated boxes, the bi-color corrugated carton printer is designed to create lasting prints and cost-effective production. While printing directly unto corrugated boxes, companies can also take advantage of its high-resolution two-color printing for their company branding. The system is suited for printing logos and graphics in various industries. It is tailored for those who are seeking a colorful design that will stand out among the products in the market.
Click here for a video to check out how printing is done on corrugated carton boxes with a bi-color corrugated carton printer.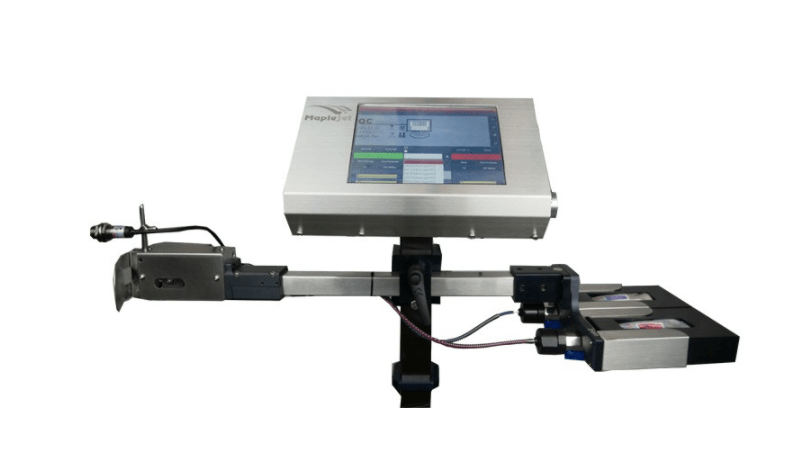 Two color printing on porous or pvc pipe materials

 

Can operate single or double printheads using one controller

 

Easy and simple to use and no extensive training required

 

User-friendly display interface

 

Design, print and store message capability

 

Up to 8 number of lines with maximum speed of 40M/min

 

Remote & field upgradeable with modular components and options

 

Compatible on oil-based for porous surfaces or solvent-based for non-porous surfaces

 

Compact with industrial strength infrastructure

 
Display Screen: 8.4″ Color TFT  LCD with Industrial Touchscreen
Printing Channels: 2 Channels  with Separate Messages
Print Module Connection: Expandable up to 6 heads
Connectivity: Computer, PLC, Weighing device, Barcode reader
Connection ports: Ethernet and RS232
External Database Print Capacity: More than 1 Million records
Menu Language: All Languages available on request
Message Saving Capacity: Up to 999 Messages
Password Protection:  Yes
Input Voltage: 90-240 VAC
Power: 60 W
System  Diagnostic: Yes
Environmental Conditions: 0-50 degrees Celsius – Humidity 0-80% RH
Start & Stop Time: Immediate
Standard: CE, CSA & UL
Resolution: 180 dpi
Max Print Speed: 40M/minutes
Max No. of Lines: 8
Height Range of Printable Characters: 2-18mm
Printable Language: All available on request
Number of Fonts: Six preloaded fonts (user defined)
Logo Printing Option: Yes
Message Component: Text, Date, Time, Logo, Counter, Shift, Barcode, External  Data, Lot Number,Basic Shapes
Auto Update: Production & Expiry date, Time, Shift, External Data
Barcode: All major barcodes supported (1D, 2D & GS1)
Print Module Angle Adjustment: 0-180 degrees
Ink Consumption Control System: Yes
Counter: Various counter option
Body Material: Stainless Steel
Wight with Stand: 21 kg
Controller Dimension: 300 x 192 x 60 mm
Standard Software Option: Flexicode Message Design Software, Remote Manager  Data Management Software
Connectivity with Third Party Software: Yes
Ink Supply System: Standard Cartridge Based System (180ml)
Ink Types: Solvent-based (Pipe), Oil-based (Porous Materials)
Ink Colour Options: Black, White, Red, Blue, Yellow
Ink Supply System: Hybrid Ink System (Auto Priming) + Heater & Agitation System
Printhead Configuration: Square Type Printhead (with Pneumatic System for Pipe  Marker)
Encoder: Yes
Extender System: Enables Connectivity up to six print module
Low Level Warning Ink System: Yes \Support Options: Stainless Steel Stand, Aluminium Stand, Elevator, T-bracket
Conveyor: Various sizes and designs available on request