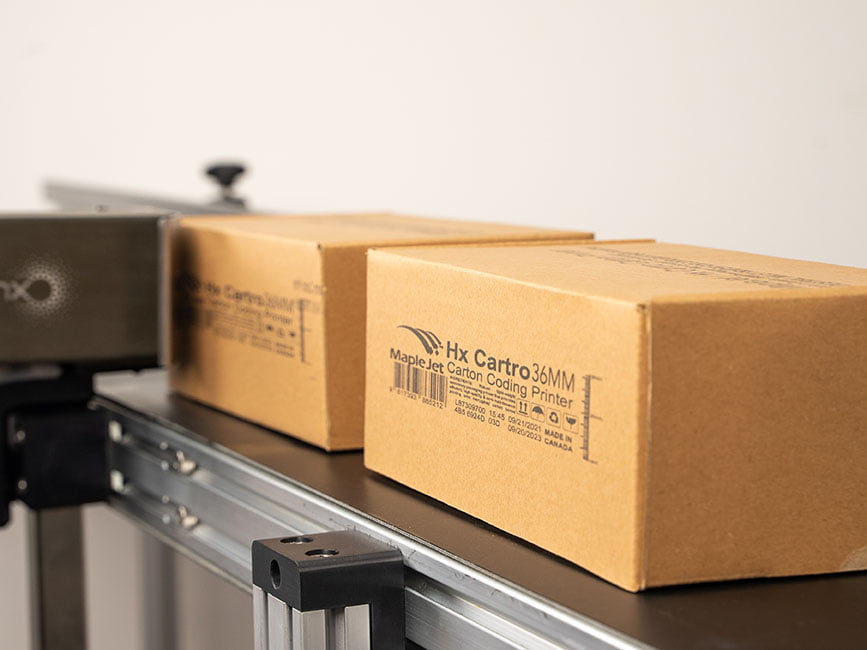 Superior Performance and High Quality
CASE CODING SIMPLIFIED!
Hx Cartro case coder is a robust light-weight secondary packaging printer that provides efficient, high-quality & zero maintenance printing onto corrugated carton boxes.
The printer is built with a low alarm warning beacon that monitors the ink level of its 180ml standard cartridge ink system. It is fast drying, prints with superior quality and fade proof. Its control system is based on any Wi Fi enabled smart device such as smartphone, tablet, or computer. Hx Cartro gives a maximum of up to 36mm print height.
A World Of Endless Possibilities
Increase the efficiency of your packaging on your production line through MapleJet Cloud.

Log In
Carton Printing Technology Reimagined
WiFi capability allows operators to use a smart device to design messages and monitor the printer.
Connect to multiple printers using one smart device
No SD cards are required to transfer messages
Field upgrade allows the remote update of the printer and software
Maintenance-free technology and does not require expensive service visits.
Don't take our word for it
Our Clients Absolutely Adore Us
"Printer and service has been great. Thank you!"

Stacey D.
"We recently bought an Hx Nitro TIJ printer from their online store. fast delivery from local warehouse and installation was a breeze. they have a good library of training videos for DIY installation, no technician needed."

Totaltech Solutions
"Great prints and long lasting cartridge. Had a software issue with Vanguard Create and customer service was A+ in helping getting it solved."

Victor C.