Hx Ultro Thermal Inkjet Printer
Hx Ultro bulk ink delivery system is designed to lower operational costs, particularly for high-volume production lines. In addition, the bulk ink supply, which comes in different volume, minimizes operator interventions due to reduced cartridge replacement needed for uninterrupted printing.
Hx Ultro comes in two models. Hx Ultro-HT offers high throw distance printing from the product's substrate of up to 10mm perfect for coding and marking on recessed, sloped, or angled surfaces. Hx Ultro-HR enables high-resolution printing of date codes, machine-readable and scannable 2D Barcodes similar to TTO prints.
As part of the Hx family of printers, it takes advantage of Hx Manager features for efficient and smooth production line operations; Advanced Printer Health Check, Economy Mode Printing, Daily Production Report, Field Upgrade Facility, and more!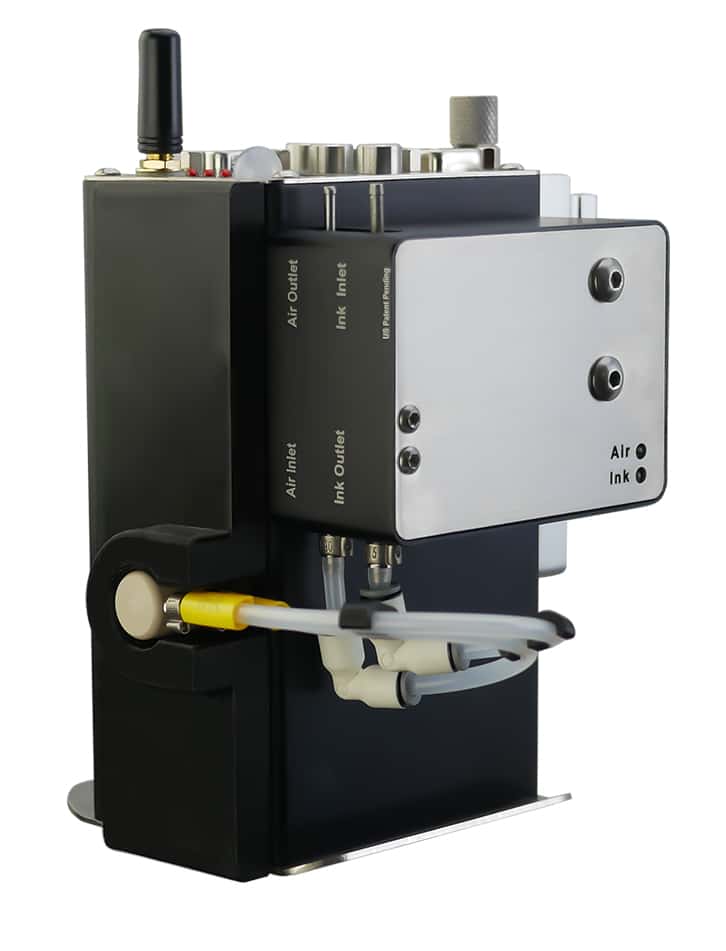 Consistent High
Resolution Codes
Up to 600 dpi print resolution perfect for printing machine-readable and mobile-scannable 2D barcodes.
No Skilled Labor to Maintain the Printer
Maintaining the printer is simple, and unlike CIJ, no factory maintenance with a Technical Engineer visit is needed to keep the printer's performance.
In-house Troubleshoot
and Remote Support
Different materials (e.g. Training Videos, User Guides, etc.) are available online for free. Technical support can be done remotely when needed.
Small footprint &
seamless integration
to any packaging lines
The printer does not have any bulky parts as it is designed to offer flexibility in integration to any packaging lines.
Low Cost of
Ownership and
Lower running cost
Hx Ultro bulk ink system offers four times more ink volume than regular TIJ providing a lower cost per print for high-throughput production lines. Printer ownership is comparatively at a lower cost than other technologies.
The easiest to use &
most user-friendly
TIJ with bulk ink
technology
The printer's ink cassette is designed for easy ink changeover with a built-in authentication tag system for accurate ink usage and parameters.
One of the smartest
and sophisticated
coding and marking printers
Its advanced Wi-Fi capability enables operators to design messages using any smart device and monitor the printer remotely with uninterrupted printing, particularly during long print runs.
"Hx Ultro merges Cost Efficiency, Reliability, Simplicity, and Sophistication into one technology!
FEATURES
TTO PRINTER
HX ULTRO
CIJ PRINTER
Installation
Requires dedicated engineer to install
in the line.
Quick, easy, and remote support installation. Free training videos online for assistance.
Requires dedicated engineer to install
in the line.
Cost of Ownership
More expensive than TIJ printer.
Ownership cost is lower than CIJ and TTO.
Ownership cost is higher than TIJ and TTO.
Maintenance
Requires frequent cleaning of printer to
remove dust and residue
Low to zero maintenance. Printhead only needs to be maintained when not in use.
Requires 3 to 4 times of factory maintenance
yearly (with cost) to maintain the printer
Running Cost
Ribbons are expensive and are prone to easily
get damaged; hence, relatively high running
cost.
The bulk ink system offers 4 times more ink than regular TIJ at a better price; printer has low to zero maintenance; hence running cost is comparatively lower than other technology
The cost per print is low, but maintenance and additional makeup are required which can affect the total cost of operation.
Ink
Ribbon type
Ink Cassette (Different volumes)
Ink plus make up
Footprint
Small Footprint but needs dedicated location
Small Footprint and flexible location in the line
Large machine and requires more space compared to TIJ.
"Finally, a thermal inkjet printer with reliable and smart bulk ink system and high-throw distance for continuous industrial production"
Don't take our word for it
Our Clients Absolutely Adore Us
"Printer and service has been great. Thank you!"

Stacey D.
"We recently bought an Hx Nitro TIJ printer from their online store. fast delivery from local warehouse and installation was a breeze. they have a good library of training videos for DIY installation, no technician needed."

Totaltech Solutions
"Great prints and long lasting cartridge. Had a software issue with Vanguard Create and customer service was A+ in helping getting it solved."

Victor C.