With its ease of use, small footprint, no maintenance requirement, and great potential for creating a more efficient and sustainable coding and marking environment, manufacturers are shifting attention towards thermal inkjet printing technology. TIJ printers are easy to operate since they only require ink cartridge change and once replaced the printer is as good as new.
TIJ printer works using tiny resistors creating heat, and this heat vaporizes ink to create a bubble. As the bubble expands, some of the ink is pushed out of a nozzle onto the paper. A typical TIJ print head has 300 or 600 tiny nozzles, and all of them can fire a droplet simultaneously1.
Bulk Ink System–equipped Thermal Inkjet Printer
There are several TIJ OEMs that have developed bulk ink delivery systems to work with either Funai or Hp bulk cartridges. However, most of these ink delivery systems lack ease of use and require expert settings to install and operate reliably. The need for skilled production staff to set up and regularly maintain these bulk systems has made this type of printer unpopular in high-volume production lines. On the other hand, MapleJet was able to develop a bulk ink delivery system which is now under US Patent Pending status that addresses the issue of complexity in installation, set up and high regular maintenance. Hx Ultro bulk ink delivery system (US Patent pending) is fully automated and requires no initial setting or skilled labour to operate. It is designed to be a user-friendly plug & play printer similar to disposable TIJ cartridges making it an ideal coding solution for high-volume production lines alternative to continuous inkjet (CIJ) and thermal transfer (TTO).
Why a need for a TIJ Bulk Ink system?
Continuous inkjet printing technology is known to be the most preferred coding solution in many high-volume production lines mainly due to the fact that it offers a low cost of print. However, food manufacturers are starting to understand that the cost per mark is not the only expense to consider when choosing a coding technology. Other factors such as service, maintenance, operator intervention, environmental impact, and the size of equipment are to be considered.
To mention a few reasons why bulk ink delivery systems of a TIJ technology are the most viable coding and marking solution:
Offers comparable cost of print to a continuous inkjet printer or TTO
Minimizes operator intervention with lesser ribbon changeover
Reduces downtime due to maintenance
Fewer ink cartridge disposables and ribbon disposals; hence, lesser waste
Offers high-resolution print quality at 600dpi
What makes MapleJet Hx Ultro different from other TIJ Bulk Ink systems?
MapleJet has designed and produced an exceptionally reliable small-footprint coding printer – Hx Ultro using the revolutionary bulk ink delivery system (US Patent Pending) for Funai's solvent bulk TIJ cartridges.
Hx Ultro's smart bulk ink delivery system, consisting of precision ink pressure regulation and accurate pump ink feed, is the industry's most compact and reliable active ink system.
Below are the reasons why the Hx Ultro TIJ is different from other existing TIJ bulk ink systems:
Reliability – The new ink delivery system uses an in-house designed air separator to collect any generated gas/air from the ink. Then, using a miniature vacuum pump it automatically removes the collected air outside of the ink system. The air separator module makes Hx Ultro's uptime among the most reliable printers in the industry.
Prime-in-field ready – This is a unique feature of Hx Ultro. With an empty Funai bulk ink cartridge, a fully-automated prime mechanism is embedded into the printer making the initial prime at installation performed with a single press of a button. The prime-in-field feature makes initial priming easy and clean.
Industry-first high throw TIJ bulk ink system – Yes! Hx Ultro TIJ printer can print on recessed, curved and angled surfaces using Funai's high throw distance ink cartridge. The gap between the printhead to the substrate can be as far as 10mm to 12mm (~0.5″).
Web-based monitoring and data entry – Unlike other standard thermal inkjet printers, Hx Ultro's human-machine interface (HMI) or the touchscreen display attached to a standard TIJ printer is omitted. The complete printer control is carried out via the built-in Wi-Fi, allowing the unit to be installed easily at any difficult-to-reach or narrow location within the packaging line. In addition to that, the operator can control all printers from a single smart device such as a smartphone, tablet, or computer.
All-in-one coding solution – Hx Ultro offers the combined features of thermal inkjet's (TIJ) ease of use, continuous inkjet's (CIJ) low cost of print, TTO printer's high-resolution print quality, and printer's needed reliability in a high-volume production line.
Current primary printer technologies with Hx Ultro and their key characteristics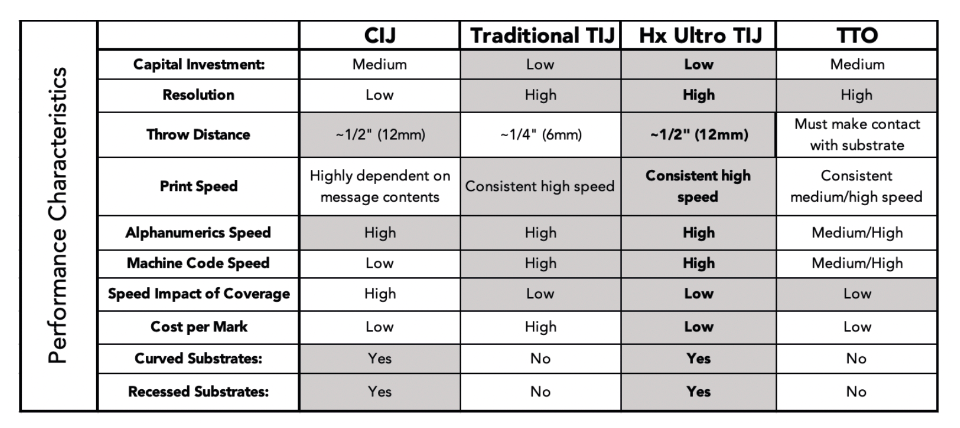 Summary
MapleJet's latest technological breakthrough is opening a new chapter of coding and marking for primary packaging. Many bulk ink delivery systems for TIJs are available in the market but they all lack the reliability and ease of use that the primary coding market requires. However, Maplejet has designed an exceptionally reliable, small-footprint coding printer using the revolutionary bulk ink delivery system for Funai's solvent bulk TIJ cartridges. Hx Ultro TIJ is breaking entry barriers for TIJ technology to break into mainstream production lines dominated by continuous inkjet (CIJ) technology and Thermal Transfer (TTO) technology.
References:
1Jeff Tyson, How Inkjet Printers Work, howstuffworks.com
Read Evolution of Product Coding White Paper – A MapleJet & Funai White Paper Collaboration,