With all the things happening in the coding and marking industry right now, it is not impossible to be perplexed with the different technologies and ink types to suit your coding requirements. Questions like, "What coding technology will work for my chocolate factory?", "Can this ink print on soda cans", "Will this ink work on my film packages?" are common inquiries for manufacturers looking for a new coding technology or starting to use a new one. It is important to note that each coding technology offers a unique solution. There is no such thing as a one-fits-all or 'for all-purpose' solution.
If you are looking to print on big boxes then small character printers like thermal inkjet printers that usually print with 12.7mm height will not be able to help achieve your coding goal. Thus, the first thing to consider when you are drawing to start your coding and marking is to understand what materials or substrates you need the printer for. This packaging material or substrate will decide what kind of ink will suit to print date codes on these packages.
In this blog, we will run you through the different funai-based ink cartridges for Hx Nitro thermal inkjet printers and their recommended applications.
MapleJet funai-based ink cartridge portfolio
Boxtron
Boxtron comes with three different types of ink formulation. All these inks are perfect for printing onto porous and semi-porous applications. However, each type comes with its strength on which substrates it works best.
Boxtron-ADB.
This type of Boxtron is aqua-based. It comes in Black color and is ideal for printing onto Tyvek, PVC, aqueous coated stock, and plastic cards.
Boxtron-SSD
Boxtron-SSD is a semi-solvent ink. It comes in Black, Blue, and Red colors. This ink is ideal for printing onto paper bags, corrugated boxes, and semi-coated cardboard.
Boxtron-SSP
Boxtron-SSP is semi-solvent pigment ink. It comes in Black color and it works best in substrates such as Tyvek, PVC, aqueous coated stock, and plastic cards.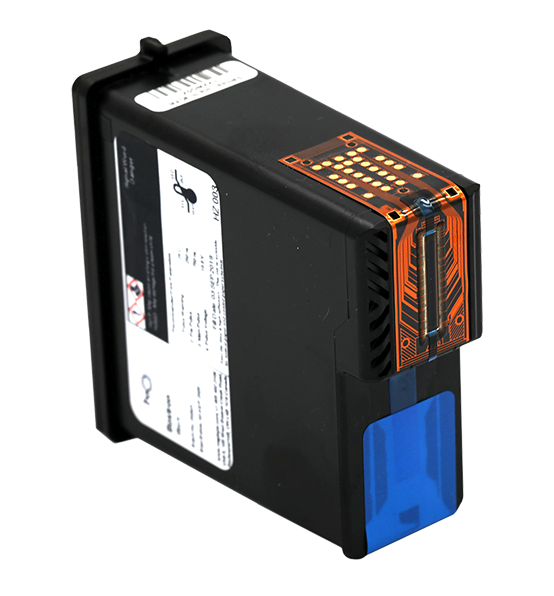 Chronplast-S
When drying time is your concern, perhaps, Chronplast-S is perfect for you. This solvent-based cartridge comes with a fast drying time capability to almost all types of non-porous substrates and an enhanced decapping time. This also has a good reputation for working in a high-temperature working environment. Ideally, Chronplast-S works best in applications such as Metal, PET, PE, and glossy coated paper.
Chronplast-W
Chronplast-W is the jack-of-all-trades among all the inks. It can work on almost all types of materials; thus, a general-purpose ink. This ink works for both porous and non-porous substrates.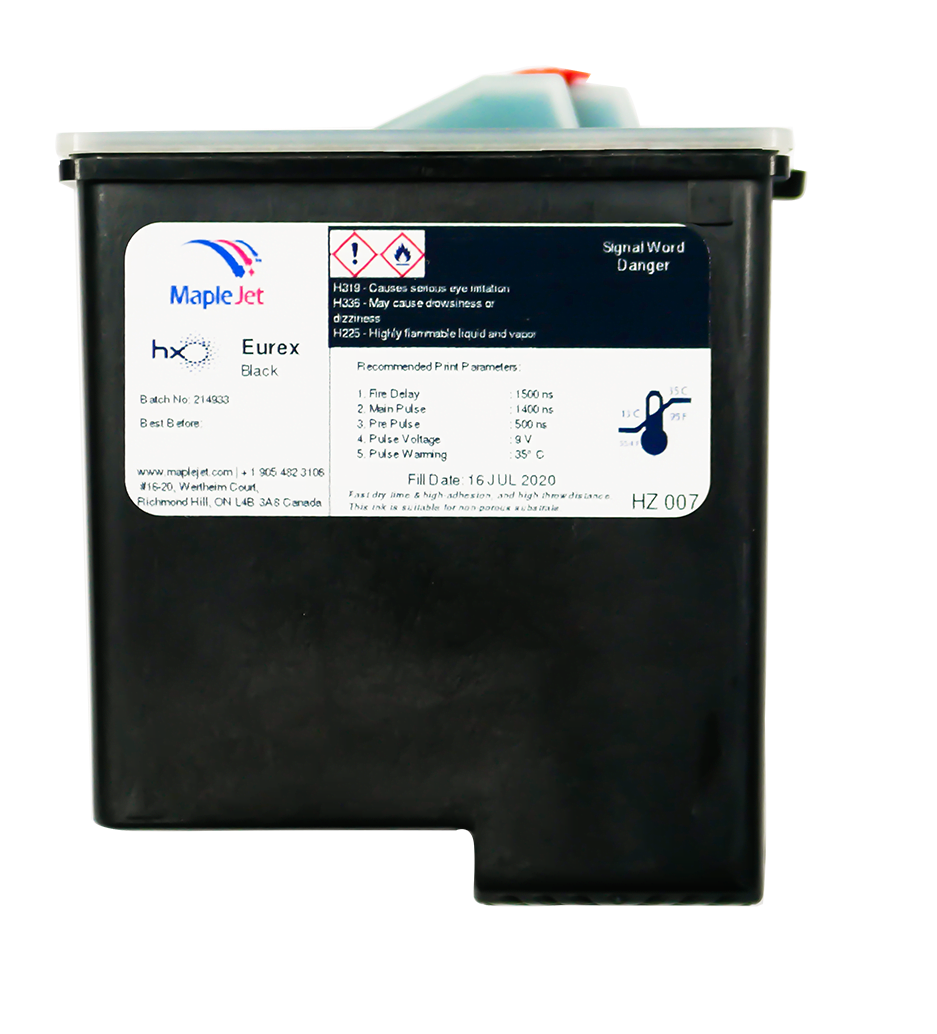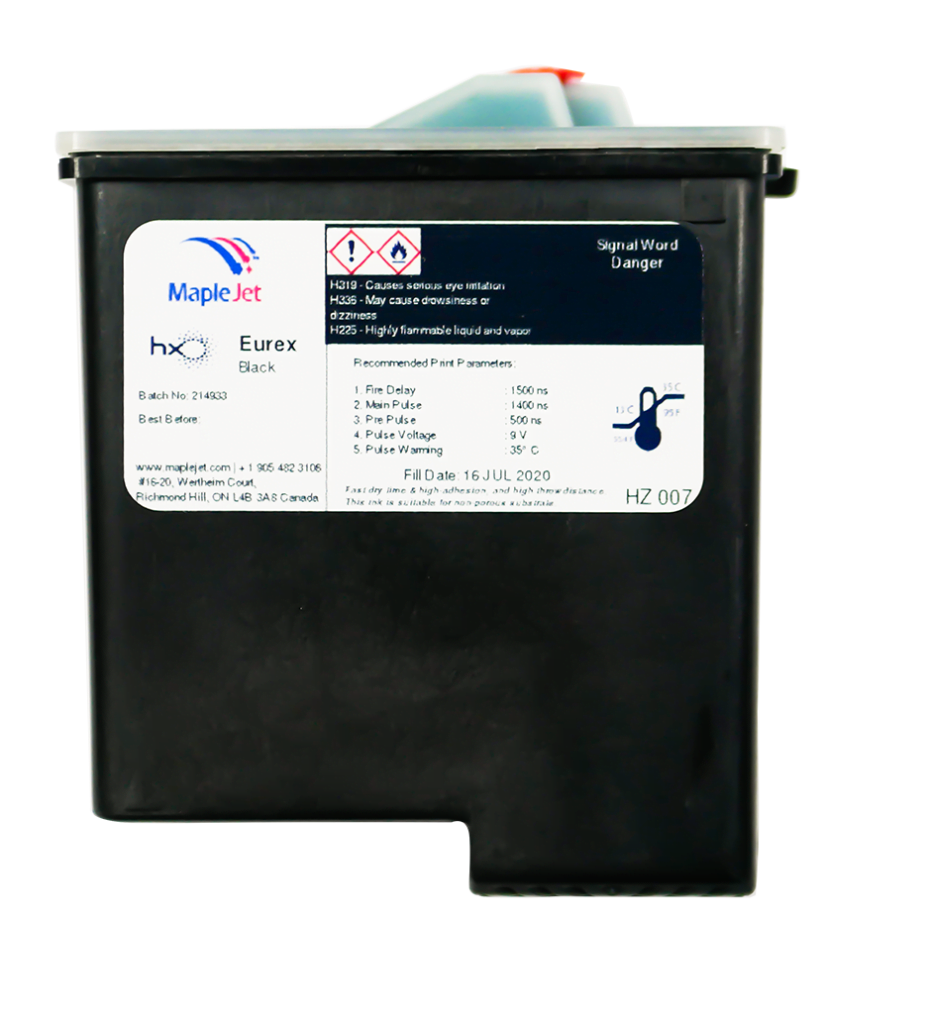 eUrex
eUrex is a revolutionary ink introduced by MapleJet through its partnership with Funai. It is a solvent-based ink that offers up to a 10mm throw distance from the printhead to the substrate. This funai-based ink cartridge allows Hx Nitro to print in angled, recessed, and sloped surfaces which were only then possible with continuous inkjet printing technology. This ink also offers a fast drying time on most substrates and a longer decapping time. The ink is ideal to use in PVC, PP, ABS, Metal, Glass, Polystyrene, and treated polyethylene film.
Hyprox-UVS
Hyprox-UVS is a solvent-based UV visible ink that works on porous and non-porous substrates. Ideally, this ink is perfect for printing onto PE, PP, Metal, and PETG.
Ultraflex
Superfast drying time is the strength of Ultraflex in various non-porous applications. This solvent-based ink offers high-quality printing onto BOPP, HDPE, PE, PVC, PP, PET, ABS, Polystyrene, and treated polyethylene film.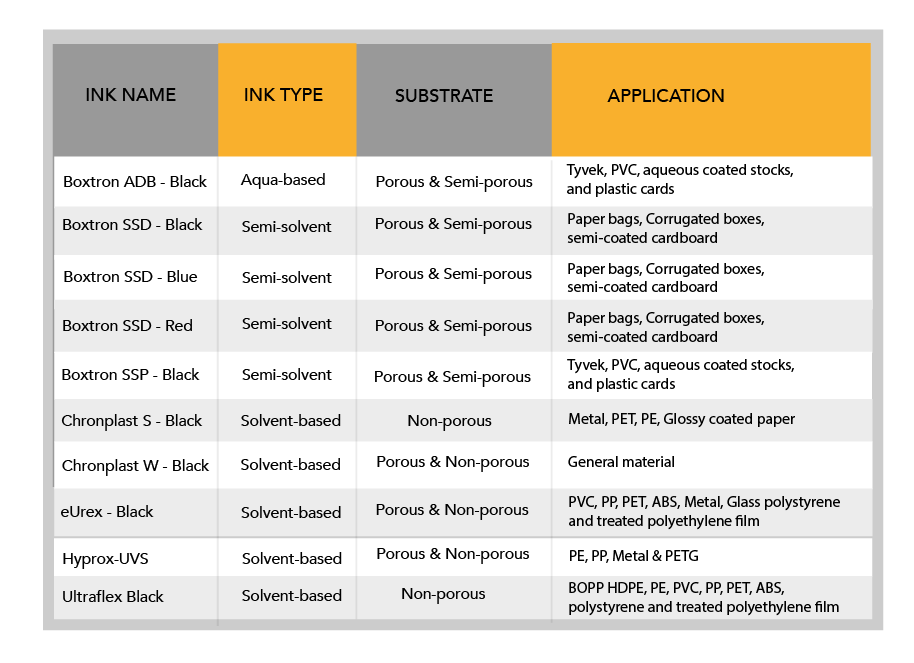 Upcoming Ink Solution
Through a partnership with Funai, Maplejet is developing a new bulk ink system for Hx Nitro. The new ink system will provide reduced cartridge changeover for high-throughput production lines and is a more environmentally friendly ink solution.
Contact MapleJet Experts for more information about Hx Nitro funai-based ink cartriges.