When it comes to food manufacturing, an adage that says "time is money" holds its true meaning, particularly when demands in the food supply are at a peak. Therefore, production plant machinery must be up with the task with lesser downtime. Lot coding printers are an essential part of this production plant. Before they leave the factory, food and beverage products need to be marked with production date, expiration date, batch number, and even barcodes. Therefore, it is crucial that your lot coding printer is robust and equipped with features that fulfill your production line's requirements.
Below we have outlined some of the most important considerations to keep in mind to know when your lot coding printer is up for the task.
Print Quality
What makes a printer better than the rest of its kind is the quality of print it delivers. The quality of printed messages varies due to several factors involved. A CIJ technology is often considered the option when printing onto bottles since its throw distance ability to print on the bottom of cans and shoulders is good. However, the quality of prints they create is comparably low and sometimes not readable. The readability of a date code is very critical.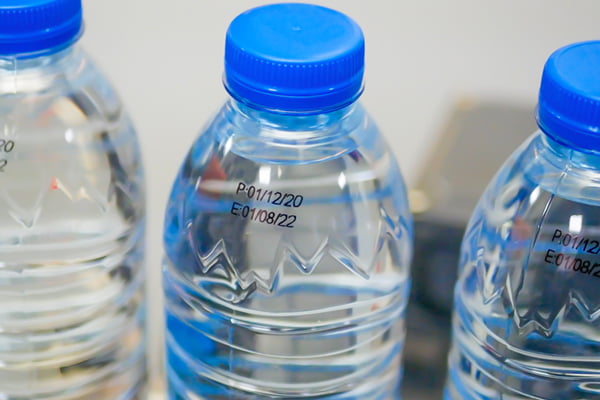 On the other hand, TIJ printers have been advancing in terms of throw distance, which allows printing high-quality print codes even on longer distances or gaps between the printhead and the product's surface. The latest development enables TIJ printers to print high-quality, readable codes at a 10 mm throw distance.
Print Adhesion
Do not get too excited when someone shows you that their lot coding printer prints high-resolution Please do not get too excited when someone shows you that their lot coding printer prints high-resolution characters. That is just one part of the whole package. The adhesion of ink to your substrate is another critical concern. Print adhesion is vital since once these products go out for distribution, many things may happen that cause your print to wear off. One of the most common tests done to check print adhesion on the substrate is through rub testing.
Therefore, the lot coding printer has to be coupled with a range of inks that will adhere to various types of substrates. TIJ lot code printer offers solvent-based and semi-solvent-based ink formulation to print in almost all types of materials with excellent adhesion.
Drying Time
When we talk about lot of coding printers, it means the whole coding and marking system, not just the printer itself. Since the type of inks compatible with the printer is a significant factor. The ink must have a good drying time to deliver optimum coding performance. Instant drying time or less than a second after printing is highly preferable. Many production lines are exposed to moisture, water splash, or scratching, which may affect the print quality, especially when the ink is not completely dried onto the product's surface.
Low Maintenance
Many coding printer manufacturers claim their coding solution offers low maintenance. However, the opposite happens in reality. CIJ printers have a lot of components in their system that, if one part fails, would halt the rest from working; thus, downtime occurs. An engineer then has to visit and fix the problem. Otherwise, to ensure that these things are avoided, they offer regular visits, which comes with a cost.
On the other hand, TIJ printers provide true low to even zero maintenance. In fact, through the advancement of technology, features such as health checks – to find warnings or faults that may occur is an available feature in thermal inkjet printing with no extra cost. In addition, this feature will save time, transportation, and production cost involved since operators may be able to fix the issue without asking an engineer to visit the production plant physically.
Running Cost and Investment Cost
Indeed, the cost is a significant factor to consider when selecting a date coding printer. The common understanding we have right now in the industry is that CIJ offers higher investment costs, requires regular maintenance at a price, but has lower running costs at high throughput lines. While TIJ printer's investment cost is relatively lower than CIJ, it offers low to even zero maintenance but can come comparatively costly on ink consumable at large volume production lines. This idea may have some factuality; however, the TIJ batch coding printer is seen as the future for high-volume production. TIJ date coder offers low to zero maintenance and provides maximum uptime with a quick changeover. In addition, it is built with sophisticated technology – such as the ability to be controlled remotely thru Wi-Fi and the development of a bulk ink system that may soon provide competitive running cost against CIJ printers.
Other things to consider
Which code or information do you need to print – scannable or non-scannable?
When printing on a flexible package, one of the first and most important questions is the code required for your product. This is because some codes (expiration date, packing date, lot code, etc.) convey information without scanning, while others (barcodes, QR codes, etc.) need to be scanned. To scan the latter error-free, you need hardware that can reliably encode at high resolution and a printer that can print at high resolution.
Thermal inkjet printers are an excellent option for companies that need to print scannable code and do not necessarily need the high-speed capabilities of CIJ.
Do you need a mobile lot code printer?
If your operation requires moving the printer, you need to look at some TIJ models that can be mounted in a fixed position or portable. On the other hand, the CIJ printer needs to be installed somewhere on the production line.
Ask an expert
If you operate your facility and have packaging requirements to address, you will need the proper coding and printing machines to meet your needs. There are many options available, but you need to be careful to make sure that your choices help make the process more efficient and maximize your investment.
We at Maplejet have perfect solutions for you; you can find the ideal solution with the best options available. Contact us to get expert advice to guide you through the selection process and discuss your individual needs to find the one that exactly matches your batch coding requirements.