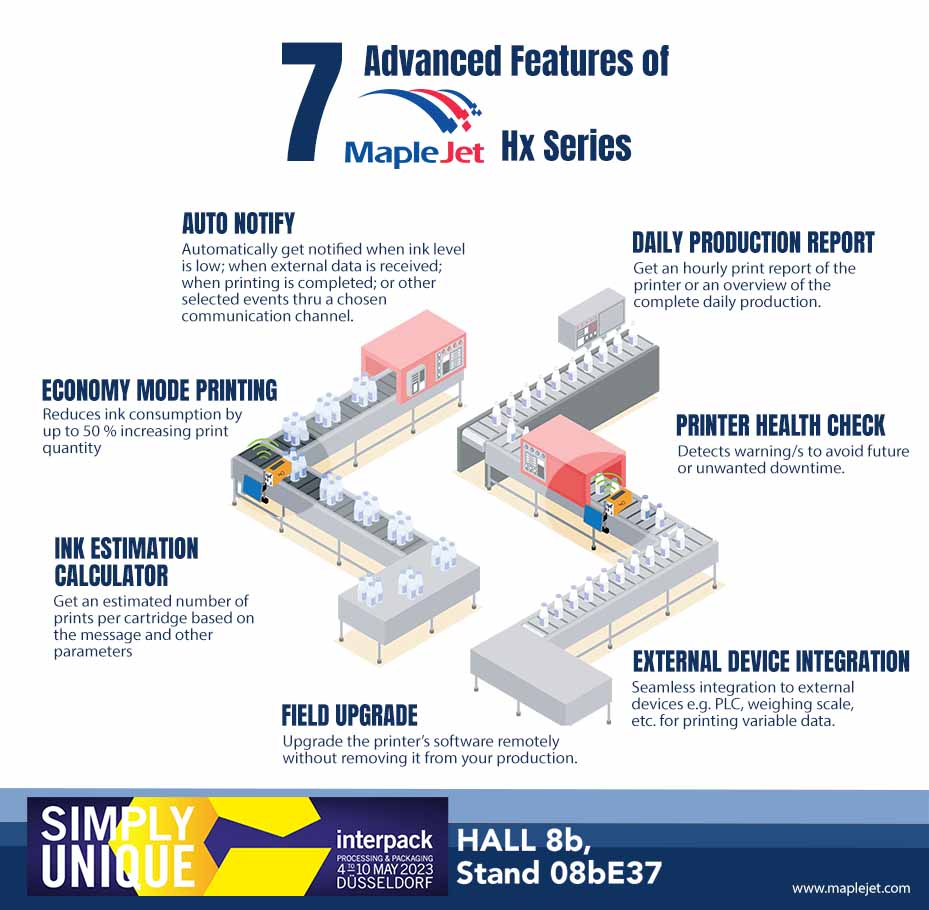 Auto Notify feature
The Auto Notify feature is a convenient tool that alerts the user about important events such as low ink levels, printing completion, or other selected events. These notifications can be sent through a chosen communication channel allowing the user to respond quickly and efficiently to any issues that may arise.
Economy Mode Printing
Hx printers feature an Economy Mode Printing option that reduces ink consumption by up to 50%, thereby increasing the number of prints that can be produced from a single cartridge. This feature is particularly useful for high-volume printing applications, where ink costs can be a significant factor.
Ink Estimation Calculator
A handy tool that provides an estimated number of prints per cartridge based on the message and other parameters. This feature helps to optimize ink usage, reduce waste, and ensure that the printer is operating at maximum efficiency.
Daily Production Report
The Daily Production Report is a powerful tool that offers an hourly print report of the printer or an overview of the complete daily production. This feature allows the user to monitor the printer's performance, identify any issues or bottlenecks, and make adjustments as necessary.
Printer Health Check
A proactive maintenance feature that detects warnings to avoid future or unwanted downtime. This feature can help to prevent costly repairs and production delays by identifying potential issues before they become critical.
External Device Integration
Hx printers seamlessly integrate with external devices such as PLCs and weighing scales for variable data printing. This feature enables the user to incorporate real-time data into their printing applications, allowing for greater accuracy and flexibility in the printing process.
Field Upgrade
Hx printers feature a Field Upgrade capability that allows the printer's software to be upgraded remotely without removing it from the production line. This feature is particularly useful for organizations with multiple printers, as it eliminates the need to physically update each printer individually. With Field Upgrade, the user can easily download and install the latest software updates from the MapleJet website, ensuring that their printers are always running at optimal performance levels.